Thursday, April 28, 2011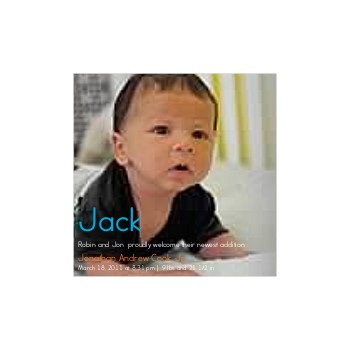 Baby Boy Name Birth Announcement

Posted by

robin
at 7:02 PM
No comments:

Friday, April 1, 2011
two weeks ago, we welcomed our son to this crazy world. he is seriously the cutest thing, which makes the past couple of weeks completely worth it. i mean, it would be worth it even if he wasn't that cute, but he is.
jack (jonathan andrew cook, jr.) was due to arrive on march 24, but i had started progressing quite early and was almost 3 cm dilated at 36 weeks and measuring way big. this sent me into a panic as i had really hoped to work up to his due date so i wouldn't have to go back to work so long at the end of the year; therefore, i really did not have much ready. i had a sono to make sure he was alright, and he was almost 8 pounds already. i really thought i would go into labor at any second. we went to a childbirth class to understand what to expect, and what we learned was that no matter what we had lined out in our minds, we have zero control of actual outcomes. our experience was NOTHING like what we sat 8 hours through to learn in that class. loved the class, but it made dying to what i had hoped for in a birth experience a little harder to do.
at my 38 week appointment, my doctor told me she had scheduled me to be induced the next week – a week early. didn't ask me, just told me. she thought jack would be rather large, and my blood pressure was starting to rise some. i DID NOT want to be induced. i tried everything i could that week to go into labor naturally. jackie wanted to stay in though. jon and i went in to my 39 week appt. to find out what to expect the next day – induction day. my doctor mentioned an elective c-section. another piece of my expectations died. she did not say i had to have one but mentioned concerns with jack's shoulders getting stuck. i told her i would rather not have the c-section, but then started second-guessing myself. i felt like she was saying i couldn't push a 9 pound baby out. i also felt i was risking my son's body. i was not feeling confident.
on march 18, 2011, we checked into baylor hospital at 6 a.m. anxious to finally meet our baby boy. they hooked me up to monitors, and i was actually already having contractions that were 3 to 5 minutes apart, they just weren't that strong. i had decided that i didn't want the epidural until i really thought i needed it. the doctor broke my water and started pitocin, and i got through a couple of hours and to 5 cm before i thought i should probably start the epidural process. especially if it was going to be a long day. it took them 6 tries and 45 minutes to get the epidural in. one doctor told the other that he was "struggling". not what you want to hear when someone is poking a needle in your spine. after a while, my bottom half was uncomfortably numb. i asked them to turn it down some, and then after a bit they turned it back up when the pain was more intense. i dilated pretty quickly, but jack decided to turn face up at some point during the day, so i had to "labor down" for a while to see if he would flip face down, which he eventually did.
finally, at 4 p.m. i got to start pushing. they said i was doing it perfectly, but i couldn't feel it. i asked after a while for my epidural to be turned down some again so i could feel some sensation. it was a lot better when i could feel, but had i known how long i would be pushing, i probably would have reconsidered. my doctor came in at 6 and said she would give me 30 more minutes. she helped me push for a while, and they could see his head. meanwhile my epidural was way wearing off and my doctor had to leave to deliver another baby. not cool, because i knew 30 minutes had passed and i needed her to tell me what to do. he was not coming out. she finally showed up around 7 and told me that i had done everything i could. i was completely worn out from pushing for 3 hours and had developed a fever. she said she could get him with the forceps, but again was worried about his shoulders getting stuck. she said c-section, i agreed.
it took a while to get prepped. this anesthesiologist wanted to be extra careful because of what had happened to me in the morning. jon had to take down his camera set-ups and change into scrubs, pack our crap back up, and put it in the recovery room. he waited out in the hall until they called him into the operating room – the only thing that was the same as what we learned in the class was where he would be standing to wait if i had to have a c-section. i was drugged and completely out of it. i could still carry on conversations, but it did not feel like me.
they asked me if i wanted music on. i said i didn't care. they listed choices. all i could think was to wonder if they seriously were asking me about music when they were about to cut me open and pull a baby out of me after pushing for 3 hours. jon chose sting.
after a few minutes they said jon could take pictures. he actually took video. it's disturbing, but so amazing to watch the birth of little jack. he was so big that they had to use a vacuum to get him out. it looks awful. they finally got him out and i heard his squeal for the first time. tears came to my eyes. i knew he was out, but nothing else. couldn't see anything. they didn't put him to my chest like they would have in a vaginal birth. i just had to listen to the voices around me to hear about him. he was born at 8:31 p.m. and was 9 pounds exactly, HUGE hands and feet. they had to give him some air, so the protocol was that he had to go to the nursery instead of coming to the recovery room with me. jon held him up to my head for a couple of minutes, and our first family of 3 photos are of me on an operating table, jon in scrubs with his face covered, and our sweet baby boy with goop in his eyes. my doctor said my labor/delivery was what would be called an ass whipping, and that he was too big to come out of my too flat pelvis. i was still completely out of it and starting to shake uncontrollably. they took him away and took me to recovery.
my parents came in to see me. i don't remember talking to them much, but i told them to go see jack at the nursery. my sweet friends were at the hospital all day long, much of the day with their kids. they stayed till the end, which blessed me so much. i was so glad they would get to see jack, even though it was only through a window. the nursery called down and said they were going to give him some formula. i wasn't the first one to feed my baby.
finally, a little after 11, they wheeled me up to my room and a few minutes later they brought him in. he is wonderful. they said i could feed him. i wondered how to do that, but then just did it. they took him away a couple of hours later since we were still kind of out of it. they said they would give him a bath. in the childbirth class, they said jon would give him his first bath. oh well.
our first days with jack have been a roller coaster of emotions. i love him so much. i bawled when they brought him in with lights and an eye mask due to jaundice. i have bawled when he cries his horrific cry that hurts your ears and i don't know what to do. there are so many things to keep an eye on with a newborn. so many things i feel that i am not competent to do, but i have to just do them and be confident in being the mom i was created to be. i've already done things i swore i would never do. we're just doing what works for baby j. we've got a lot of learning to do to see what exactly that is. Lord, help us.
Posted by

robin
at 5:47 PM
3 comments: